A Change In Your Location Could Change EVERYTHING...
You know you've been wanting to make a change
to build a house in a place you would love to call home.
You want the serenity of the countryside
pastures, lakes, trees, land.
But you also want to be close to the city
easy access to work, shopping, and dining.
You want the beauty of seclusion,
but with all the benefits of a subdivision.
You want friendly neighbors, a peaceful way of life, a beautiful home on the perfect lot...
You've Finally Found What You've Been Looking For!


Stonebriar is a custom home community nestled in the country-side of Franklin Township. It is set on a secluded road on the outskirts of the city, yet is only minutes from I-65, I-74, and I-465. It's the kind of place you have to be looking for to find - but once you've been there, you'll never want to leave.
We invite you to take a short drive and come experience the serenity of Stonebriar. (But don't wait, there are only a few choice lots left!)
_________________________________________________________________________________
StoneBriar Community - Information

Below you will find answers to frequently asked questions. If you have any other questions please call or email us. We'd love to help you make Stonebriar the place you call home.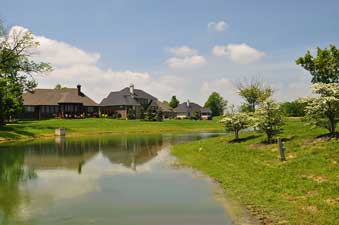 Can I bring my own builder to StoneBriar?
The primary builder for Stonebriar is Hansen Custom Homes. However, any builder can build in Stonebriar as long as the builder (along with the home plan being built) is approved by the Architectural Control Committee.


What are the sizes of the lots?
Lots range from 1/3 of an acre to 2/3 of an acre. Several of the available lots are wooded.


What is the minimum square footage requirement?
It is 2,000sf for a Ranch and 2,400sf for a two-story.


What is the value of homes in StoneBriar?
Currently homes range from $400,000 to $950,000.


Are their any common areas?
There are two ponds on the property and a small forested area.


What is the school district for Stonebriar?
K-5 - Acton Elementary School
6-8 - Franklin Township Middle School
9-12 - Franklin Central High School


What are the covenants for Stonebriar?
Simply click here to view a complete copy of the StoneBriar Covenants.